Tracey Hammond | Nutrionist | Msc (Dist) | Equine Condition Assessment
---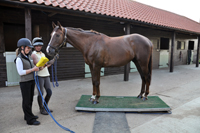 Tuesday 29th September 2015 | 9am - 5pm
Dengie Nutritioinst, Tracey Hammond and Area Sales Manager, Ryann Walker will be at Rockrose Equestrian for a Dengie Diet Clinic. Horses will be weighed on their portable weighbridge, condition scored and have their diets individually assessed.
This is a great opportunity to have your horse accurately weighed and their diet assessed by a highly qualified and experienced company.
Tracey has been a nutritionist with Dengie since 2004 and has a particular interest in feeding and behaviour. Dengie is the leading manufacturer of fibre-based horse feeds and the largest UK producer of alfalfa which forms the basis of its feeds.
Injuries and Back Pain vet Jo Paul will also be giving a free evening talk on Monday 28th September.
---
Equine Condition Assessment | Free | 30min slots Tuesday 29th September from 9am
Jo Paul | Equine Physiotherapist | M.C.S.P., A.C.P.A.T. Cat A, H.P.C.
---
Monday 28th September 2015 | 7.30pm
Jo is a qualified Chartered Physiotherapist for humans and an equine physiotherapist since 1989; obtaining ACPAT Cat A status in 1990. She Travelled to the USA to train with Sally Swift in the Centred Riding method and continued training with senior instructors to become a listed Centred Riding Instructor in 1994. Later she travelled as part of the British Vaulting Team to WEG in 1998, treating horses and human athletes. Jo has lectured internationally on physiotherapy in equine re-habilitation including the Royal Veterinary College on the Veterinary Physiotherapy MSc. and clinical educator for that course and ACPAT Core Skills course. She presently works from WERC treating animals and humans and training students in animal physiotherapy.
---
Injuries & Back Pain Evening Talk | Free | Monday 28th September from 7.30pm
Booking
---
To book please complete the form below & submit, thank you.
---